Blue Ridge Horseback Riding GA – Riding Tours in Georgia
Disclosure: This article contains affiliate links, meaning when you make a purchase, I earn a small commission. Affiliate links cost
you nothing to use, and help keep my content free. It's a win-win for us both!
Take a journey into the stunning Blue Ridge Mountains of North Georgia and explore your inner cowboy through guided horseback riding tours with Brian and I. Don't miss the chance to stay with us at our Vacation Rental called Blue Mountain Dreams. Our 4 bedroom cabin in the woods has a hot tub , grill and peace and quiet which can warm your hearts after a great equestrian experience .
In the heart of nature's grandeur, this horseback riding adventure is more than just a jaunt; it's a gentle reminder of the simple, unadulterated joys life offers. And we at sbgetaways.com are thrilled to help you discover such priceless experiences.
With its unique equestrian experiences, Blue Ridge offers an ideal setting for outdoor adventurers as well as anyone looking to relax on horseback in such serene natural surroundings. Saddle up and let's hit the trails!
Key Takeaways
Explore the Blue Ridge Mountains with horseback riding tours for all skill levels offered by Arrowmont Stables & Cabins,Cowgirl Up Stables and Blue Ridge Mountain Trail Rides.

Wear protective clothing, footwear, and gear such as helmets to ensure a safe experience. Follow safety guidelines when mounting/dismounting horses & trail etiquette to stay safe.

Enjoy outdoor activities in the area including hiking/biking trails or water sports like swimming, tubing & fishing at popular destinations like barrier islands & lakes!
Discover Blue Ridge Horseback Riding Tours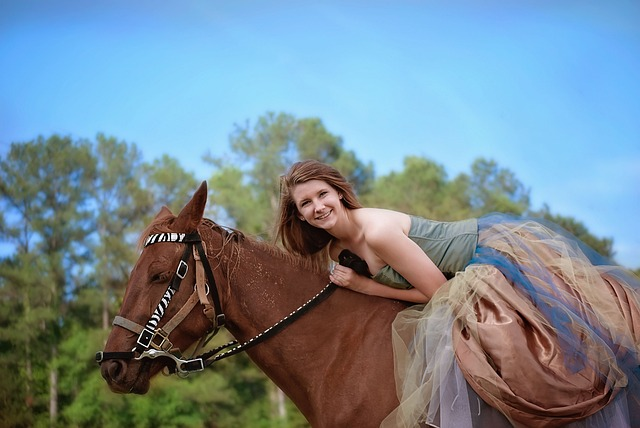 At sbgetaways.com, we believe in curating adventures that etch unforgettable memories on the canvas of your heart. One such treasure nestled amidst the lush expanses of the Blue Ridge region in Asheville, North Carolina is the horseback riding adventure on the Flame Fern Trail. This excursion, brought to you by a seasoned local outfitter, promises a harmonious blend of serenity and thrill.
The journey kicks off from a quaint ranch, where friendly guides pair you up with gentle, well-trained horses. Even if you've never saddled up before, worry not! The guides are well-versed in ensuring both first-timers and experienced riders find their comfort zone.
As you trot along the Flame Fern Trail, nature unveils its panoramic beauty. The trail winds through verdant forests, across babbling brooks, and opens up to meadows where the horizon kisses the earth. Amidst the tranquil backdrop, the soft clopping of hooves resonates with the old-world charm of the Blue Ridge mountains.
The excursion is not just a ride; it's a gateway to the simpler times. It's about the quiet conversations with nature, the bond with your noble steed, and the camaraderie shared with other adventurers on the trail. It's the kind of day where the sun seems to shine a little brighter, and the skies seem to stretch a little wider.
Before you head back to one of our cozy retreats to unwind, make sure to capture a few photographs. The Flame Fern Trail has a knack for painting pictures that are worth a thousand words, yet leave you speechless.
The beauty of the Blue Ridge Mountains has attracted riders from all backgrounds, making it a perfect spot for horseback riding. Explorers can take part in breathtaking tours like Appalachian Trail Rides and enjoy trail rides, pony rides and dinner or proposal horses as they journey through cool mountain wilderness. Those wanting to experience this thrill should consider Cowgirl Up Stables or Blue Ridge Mountain Trail Rides – two reputable companies that cater to novice enthusiasts right up to seasoned equestrians. Mineral Bluff up until Blue Ridge GA is where you'll find beautiful trails being expertly managed by experienced guides, allowing North Georgia residents an unforgettable way of exploring their area on horseback!
Located in the stunning Blue Ridge Mountains, Cowgirl Up Stables is an all-women owned and operated stable that provides incredible horseback riding experiences to beginners. The ranch lies just a short drive away from downtown Blue Ridge and offers rides for different skill levels ranging from the novice ride to sunset or even romantic/proposal rides.
Safety and comfort are top priorities at this beautiful destination with riders as young as 6 years old accepted along with weight limits up to 240 pounds being accommodated too! Professional trail guides provide accompaniment on every journey ensuring no matter your experience level you can fully enjoy your adventure through these majestic mountains.
Blue Ridge Mountain Trail Rides offers a great variety of horseback riding activities for both experienced riders and first-timers. Located at the Hell's Hollow Adventure Outpost, you can choose between trail rides, pony rides, sunset tours or professional lessons with friendly staff who will make sure to match each rider up with the perfect horse. Take your family on an exciting outdoor adventure through some of nature's finest trails in the Chattahoochee National Forest as well as the Cohutta Mountains!
This activity is open to all ages over 8 years old and weighing under 230 lbs -Blue Ridge Mountain Trails provides thrilling experiences tailored specifically to everyone's needs!
Unique Horseback Riding Experiences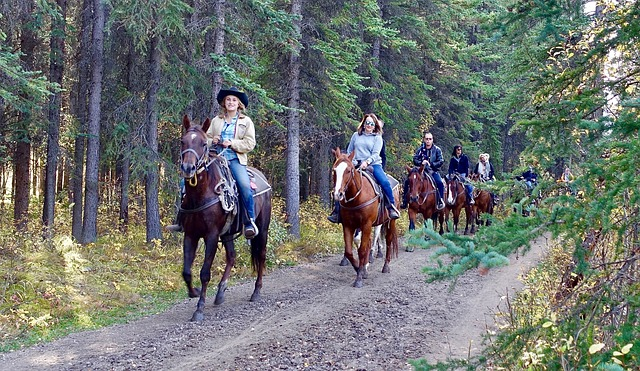 Blue Ridge, Georgia is home to an abundance of horseback riding opportunities tailored for everyone's interests and needs. The more intrepid rider can visit Hell's Hollow Adventure Outpost, where they will be provided with thrilling yet enjoyable rides. Alternatively, Daffodil Hill Farms offers a serene carriage ride accompanied by sightseeing at the farm, ideal for romantic rendezvous or special celebrations.
Whatever your preference in terms of intensity when it comes to horse-riding experiences, Blue Ridge has something suitable on offer!
Visitors searching for an exciting horseback adventure will find what they need at Hell's Hollow Adventure Outpost, catered towards experienced riders. From cool mountain wilderness trails to rugged terrain, the rides provide a thrilling and satisfying experience with their private trail runs or hand led tours through astounding nature scenes. The knowledgeable guides make sure that everyone has all the support needed in order to fully enjoy this memorable outdoor family opportunity on horseback, one which can never truly be forgotten!
For a more relaxed and bewitching experience, Daffodil Hill Farms offers private horse-drawn wagon rides and an extensive 90 minute farm tour – plenty of chances for animal interactions! This picturesque location is also available to book smaller weddings or events so you can create amazing memories that last.
The reasonable private tours featuring traditional Western style hayrides at Daffodil Hill Farms are great for families - there's lots on offer such as admiring the towering 80 foot waterfall, petting fainting goats, grooming miniature donkeys, taking pony rides plus feeding chickens too!
Daffodil Hill offers a special riding adventure combining relaxation with engagement suitable even for riders no matter their age range.
Riding Packages and Accommodations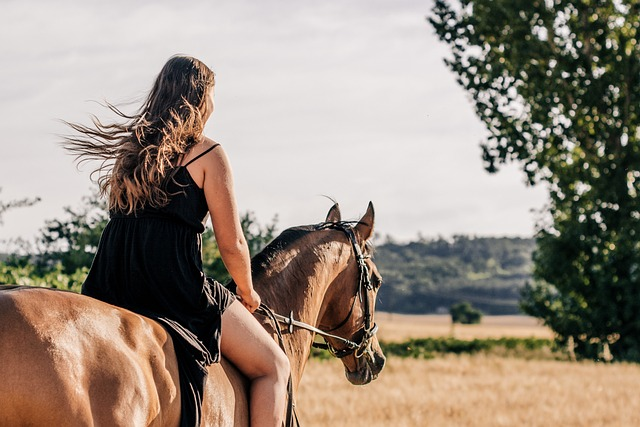 For those wanting to have an amazing horseback riding experience with luxurious amenities, Blue Ridge is the place for you. Whether it's a guided trail ride or individual lessons, Blanche Manor Horseback Riding and Brasstown Valley Resort provide comprehensive packages that can accommodate any type of rider. From overnight stays to spa treatments, these two establishments have something for everyone from beginners to experts alike, offering private rides as well! So come on down and enjoy your stay in one of our incredible Blue Ridge locations while taking part in some delightful horseback rides through nature.
At Blanche Manor Horseback Riding, guests can immerse themselves in the stunning Blue Ridge Mountains through a variety of horseback riding options catered to different skill levels. Throughout all four seasons - Winter, Spring, Summer and Fall, riders are sure to find an unforgettable journey amid these picturesque trails that offer magnificent vistas.
To enhance their stay in this region of Georgia, visitors may choose from Ocoee Rafting for extra enjoyment during their holiday.
Nestled within the scenic Young Harris,Georgia, Brasstown Valley Resort is a luxurious place to stay with plenty of recreational activities. From horseback riding on beautiful trails offering magnificent views, to fishing or biking - there's something for everyone at this majestic resort.
Guests can also make use of its spa facilities and restaurant as well as explore gem mining in the area, which adds another dimension to their experience here! Horseback rides are sure to be an enjoyable adventure amid these picturesque mountains. So plan your trip accordingly now and enjoy all that Brasstown Valley has waiting for you!
Tips for a Successful Horseback Riding Trip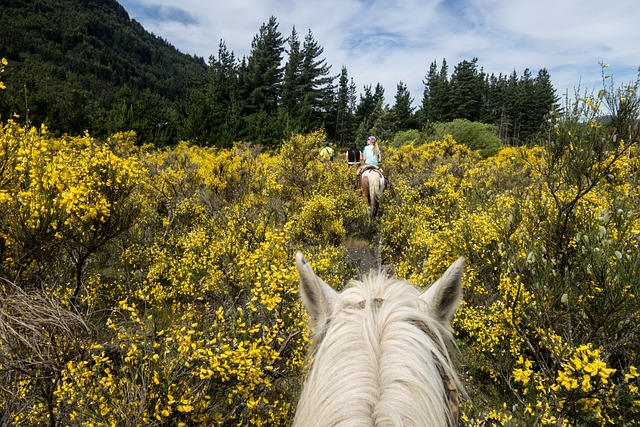 To guarantee a pleasant horseback riding journey in Blue Ridge, Georgia, proper preparation is crucial. From selecting the perfect guided trail ride to understanding safety rules and attire guidelines. There are several elements which must be considered for an enjoyable experience on your horseback adventure.
The following provides advice with regards to clothing options and precautionary measures one should observe during their venture into the world of horseback riding in Blue Ridge. Taking these factors into account will help make sure you have an amazing trip!
What to Wear
When it comes to horseback riding in Georgia, protective clothing is key. Jeans or long pants should be worn on the ride so as to protect your legs adequately. Closed-toe shoes with a low heel provide you an ideal hold while horseback riding and make sure that you have comfortable footwear for the activity.
Safety equipment such as helmets, gloves and eye protection are musts when going out for a ride. This not only makes your time enjoyable, but also helps steer clear of potential risks involved during horseriding activities.
Safety Guidelines
When it comes to horseback riding, safety should always come first. It is important that riders learn the correct way to mount and dismount a horse as well as how best to control them for an enjoyable ride experience. Trail etiquette must be observed in order to ensure everyone's safety during their time on the trails. This includes sticking only to designated paths rather than taking short cuts or cutting corners along with being considerate of other equestrians and wildlife sharing those spaces too. Following these precautions will guarantee both you and your fellow travelers have a safe yet fun time out enjoying their horseback excursion!
Exploring the Surrounding Area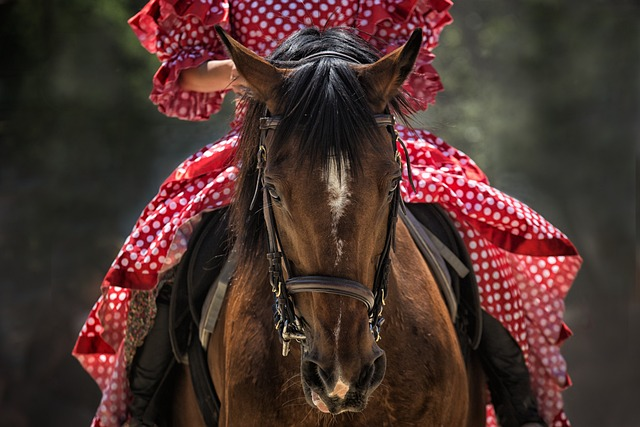 Located in the idyllic mountains of Blue Ridge, Georgia is a haven for those who crave outdoor activities. Horseback riding has become an iconic part of this region and remains one of its most popular adventures. There are numerous other options to explore such as hiking or biking trails, fishing spots and various water sports. Whether you're looking to engage your inner thrill-seeker or simply spend time admiring nature's beauty here in Blue Ridge – come prepared with plenty of ideas on how to make the most out of your visit!
Hiking and Biking Trails
Blue Ridge, Georgia is an outdoor enthusiast's paradise with more than 300 miles of hiking trails. Each trail offers something unique including cascading waterfalls, mountain summits and canyons, as well as historic sites that fit all skill levels. Some popular choices for hikers in the area include Amicalola Falls (Dawson GA) which has access to the Appalachian Trail or Black Rock Mountain among many others like Cloudland Canyon and Fort Mountain Trails. Even if you're new to this type of activity, there are plenty of options perfect for a leisurely stroll such as the Anna Ruby Falls Trail or a shady forest path available here too! No matter your level, Blue Ridge will provide some stunning landscapes to explore each time anew!
Water Sports and Fishing
Located in Blue Ridge, Georgia, horseback riding is just the start of all available activities for those who enjoy outdoor pursuits. Along with biking and hiking, there are plenty more opportunities to explore when it comes to water sports and fishing. One can easily find tranquility on rivers or lakes that offer a multitude of exciting possibilities such as swimming, tubing, whitewater rafting, boating, kayaking, jet skiing and most importantly –fishing! Some must visit sites around this area include nearby beaches across barrier islands along with Chattooga River (Cashiers , NC) perfect for white-water rafting then Lake Oconee & Chatuge also accommodating boat rentals plus jetskii excursions too! No matter what one's passion might be while being outdoors. Without any doubt, an active person will be fulfilled after visiting vibrant Blue Ridge!
Summary
Blue Ridge, Georgia is a haven for horseback riders of all levels. From guided trail rides and unforgettable equestrian experiences to beautiful hiking trails and luxurious accommodations, Blue Ridge can provide you with the perfect horseback riding adventure in the heart of majestic mountains. There's something here for everyone: thrilling excursions or relaxed getaways- your choice! Saddle up and explore this amazing corner of nature on a special ride that'll leave lasting memories behind!
Frequently Asked Questions
Can you ride horses on the Blue Ridge Parkway?
Riding horses is allowed on the Blue Ridge Parkway, Riders must bring their own horse and follow all signage.
What is the best state to go horseback riding in?
California is the top state to experience horseback riding, boasting a wide selection of rentals, trails for exploration, camps, museums and vacations dedicated to it. This makes it an ideal place for those eager to gallop off on their steed!
What are the age and weight restrictions for horseback riding in Blue Ridge, Georgia?
At Cowgirl Up Stables in Blue Ridge, Georgia, the minimum age requirement is 6 years old and any riders must not exceed a weight of 240 pounds.