9 Best Places Explore Mini Golf in Pigeon Forge
Brian and I went with our family for a vacation and found out how much fun we really could have on a rainy day at our top pic : Crave Golf Club !
Mini golf is a great way to spend quality time with family and friends. And when you combine it with the scenic beauty of Pigeon Forge, Tennessee, it becomes a truly unforgettable experience.
In this article, we'll explore the world of mini golf in Pigeon Forge and discover why it's a must-visit destination for all.
Why Mini Golf in Pigeon Forge is a Must-Visit Destination?
Pigeon Forge is a place that's known for its stunning natural beauty, entertainment, and attractions. But what sets it apart from other tourist destinations is its exceptional mini-golf courses. From challenging holes to breathtaking scenery, the mini-golf courses in Pigeon Forge offer a unique and exciting adventure for everyone.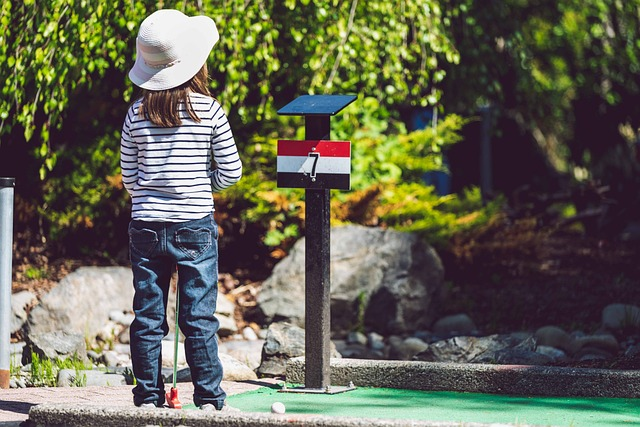 The Crave Golf Club is one of the most popular mini-golf courses in Pigeon Forge. It offers two unique courses, indoor and outdoor course, with a total of 38 holes. The indoor course is climate-controlled, making it perfect for all seasons.
If you're in the mood for something sweet, head over to Crave Golf Club ! Crave Golf Club has indoor and outdoor mini golf courses that are candy themed with 19 holes each.
The outdoor course, on the other hand, offers breathtaking views of the Smoky Mountains. With its fun candy themed course and challenging holes, the Crave Golf Club is a must-visit destination for anyone looking for an unforgettable mini-golf experience.
You have multiple challenges to prove your skills!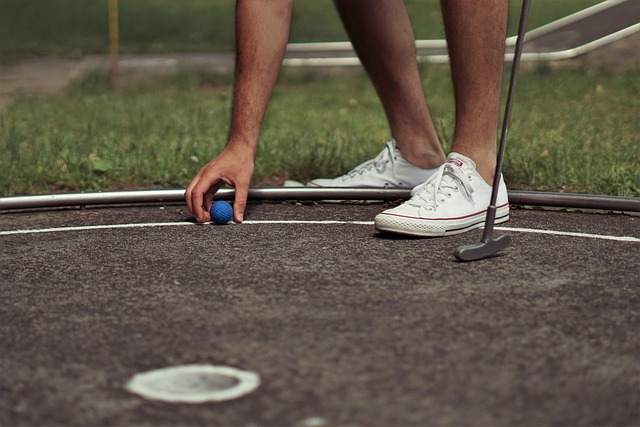 Ripley's Old MacDonald's Farm Mini Golf is a perfect place for animal lovers. The course is designed like a farm, with animal sculptures and barnyard sounds. With its fun holes and animal-themed obstacles, this mini-golf course offers a great experience for all ages.
I really liked Ripleys attraction. The Smoky Mountains contain the largest Ripley attractions of any location in the world, making it an excellent opportunity to use their combo passes as well visit more attractions in Gatlinburg. It offers 54 holes of so much fun on farmlands and combines family entertainment. And the animations include barnyard characters, water features and interactive items.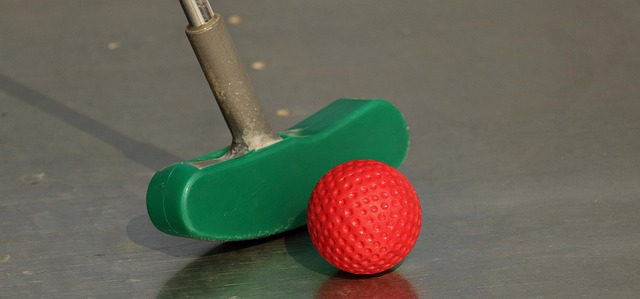 If you're looking for a mini-golf course that offers an adventure, then Professor Hacker's Lost Treasure Golf is the place to be. The course takes you on a journey through a lost civilization, complete with waterfalls, caves, and a 25-foot volcano. With its challenging holes and exciting adventure theme, Professor Hacker's Lost Treasure Golf is perfect for families and groups.
Players follow one of the explorers paths through the golf holes. The course is a tribute to Professor Duffer A. Hacking who was a renowned scientist in geology and anthropology. The two golf clubs are designed with 18 holes for a wide variety of activities aimed at acquiring precious metals and gemstones. If you buy a ticket, you will be led to a mining car in a mountain area that houses the golf course.
Take advantage of this stunning 18-hole championship course with breathtaking views over the Smoky mountains. You can choose one or both courses and you can look forward to getting on an adventure that shows you more about the amazing adventures portrayed by Davy Crockett. Interactive displays of carved wooden buildings and sculptures of cartoon bear and raccoon help make Ripleys Davy Crockett Mini golf the most original in the world. Alternatively, a nice arcade has been set up in this place to enjoy a game of games. This is surely an area where you can enjoy a great mini golf course in Gatliignburg, TN.
The Toybox is a family-themed mini golf. The course features an extensive 18hole minigolf course with laser mazes, toys and props. Your fun will start immediately when entering this gigantic box building. Explore Toy Wonderland and challenge your opponents with mini-golf! Golfing at this place makes you happy! The toys, drinks and sounds are sure to put you in a great mood and get you ready for an unforgettable experience. Each hole provides creative yet challenging designs and in-hole placements. It is a thrilling 18th round that finishes! We hope your family is thrilled.
Fantasy Golf is a putts course with magic themed outdoor course divided between two courses with 18 holes. There's a dragon, castle, unicorn and dinosaur theme on offer. Pricing varies from $7.50 for children to $10 for adults. Fantasy Golf has no official website. Their office is at 3263 Parkway in PigeonForge.
It is recommended to play mini golf Treasure quest for an adrenaline-filled experience. It is an 18-hole golf course surrounded by an impressive landscape. The remaining six courses are surrounded by an indoor course setting with brightly colored black lights for better visibility of holes. The best feature of this thrilling mini-golf course is that it gives you the option of using a scorecard for a second round. A good incentive for playing is to play mini golf free with holes in tees and holes in. Wow!
If you're looking for a unique mini-golf experience, then it is the perfect destination. The course is set on a mountain, and players have to ride a tram to reach it. With its challenging holes and beautiful scenery, it is perfect for those looking for an adventurous mini-golf experience.
Circus Golf is a unique mini-golf course that offers a fun experience for the whole family. The course is designed like a circus, complete with clowns, acrobats, and elephants. With its fun holes and exciting theme, Circus Golf is a must-visit destination for anyone looking for a unique mini-golf experience.
Things to consider when choosing a Mini Golf in Pigeon Forge and Gatlinburg
With countless golf courses for your enjoyment in PigeonForge and Gatlinburg there's something to consider if you want your family to have the maximum time and enjoy the excellent facilities in these adventure courses. List some factors to consider before choosing the right courses.
Tips for Playing Mini Golf in Pigeon Forge
Wear comfortable shoes

Dress appropriately for the weather

Bring sunscreen and insect repellent

Be respectful of other players

Don't rush, take your time and enjoy the experience
How Much Is Hillbilly Golf in Gatlinburg?
Admission Prices: Hillbilly Golf charges $13.50 per adult, $9.50 for children between 4-12, and free for children under 3. Prices are subject to change and do not include tax.

Discounts: Special discounts are offered to seniors aged 60 and older, military and first responders with ID, local residents with ID, and groups of 15 people or more in a single transaction.

Spectators: Those who come to watch will be charged the same price as players. Unfortunately, strollers and pets are not allowed in the course.

Second Game: Guests who play mini golf a second game can enjoy it for only $5.99 within three days of their first visit, given that they keep their scorecard.
To join in the fun, simply purchase admission at the front desk. If you wish to avail of the discounts, make sure to bring the necessary identification cards. Once you've paid, grab your putter, ball, and scorecard, and let the games begin!
FAQs:
Can I bring my pet to Hillbilly Golf?
Unfortunately, pets are not allowed on the course.
Can I get a discount if I come with a group of friends?
Yes, groups of 15 or more can avail of a special discount.
How long is the second game offer valid?
The second game offer is valid for three days after your first visit, provided that you keep your scorecard.
Is Hillbilly Golf accessible for seniors?
Yes, special discounts are offered to seniors aged 60 and above.
Are there any other attractions near Hillbilly Golf?
Yes, Hillbilly Golf is surrounded by other exciting attractions, including museums, theme parks, and restaurants.
Does Dollywood have mini golf?
There is one on Dolly wood lane behind TopJump.
Step into a world where toys come to life, and dreams are made at Toy Box Mini Golf. Nestled on Dollywood Lane behind TopJump, this all-new toy-themed attraction promises an unforgettable family adventure. With its 18-hole mini-golf course, laser maze, and photo ops there's something for everyone at Toy Box Mini Golf.
Features:
Mini Golf: it offers an 18-hole outdoor mini-golf course that will challenge and delight players of all ages.

Laser Maze: Navigate your way through a maze of laser beams and dodge obstacles to reach the other side in this exciting attraction.

Toy Photo Ops: Capture precious moments with massive toy photo ops that will transport you to a world of wonder and imagination.

Toy Store: Take a piece of Toy Box Mini Golf home with you by visiting their one-of-a-kind store, filled with unique and nostalgic toys.
Ready to immerse yourself in a world of toys and wonder? Simply head over to Toy Box Mini Golf, located on Dollywood Lane behind TopJump. Purchase your tickets at the front desk and get ready to embark on a magical adventure with your loved ones.
It is more than just an attraction - it's a place where families can come together and create memories that will last a lifetime. With its exciting features, including mini-golf, laser maze, photo ops, and a store like no other, there's no shortage of fun and wonder at Toy Box Mini Golf. So bring the family and experience the magic today!
FAQs:
Is Toy Box Mini Golf suitable for children of all ages?
Absolutely! It is designed for players of all ages, including children.
Do I need to make a reservation to visit Toy Box Mini Golf?
No, you can purchase tickets at the front desk upon arrival.
Can I purchase toys from the toy store without visiting the mini-golf course?
Yes, the toy store is open to all visitors.
Is the laser maze safe for children?
Yes, the laser maze is safe for children and designed with their safety in mind.
Are there any food options available at Toy Box Miniature Golf?
While there are no food options available at the attraction, there are plenty of nearby restaurants to choose from.
How long does it take to play hillbilly golf in Gatlinburg?
Plan to spend at least an hour (or more) navigating the course and enjoy limited snacks while taking in the breathtaking views.
Mini golf in Pigeon Forge is an exciting adventure that's perfect for families and friends. With its beautiful scenery, challenging holes, and unique themes, Pigeon Forge offers some of the best mini-golf courses in the country. Rain or shine, indoor course or outdoor course you'll have a great time playing miniature golf in Gatlinburg and Pigeon Forge.
With so many places to play mini golf in Pigeon Forge, you should get started now to play at all of them! If you're wanting to know what where to stay while you're on vacation Our beautiful Dreamy Vistas Vacation Rental has everything you need for an unforgettable vacation, including soothing a hot tub, fantastic views, decks with rocking chairs, fully equipped kitchens, and Smoky Mountain-inspired decor. We would love to host you!