Guide to the Clingmans Dome Hike at the Highest Peak in the Smoky Mountains - Where the Wild Kids Wander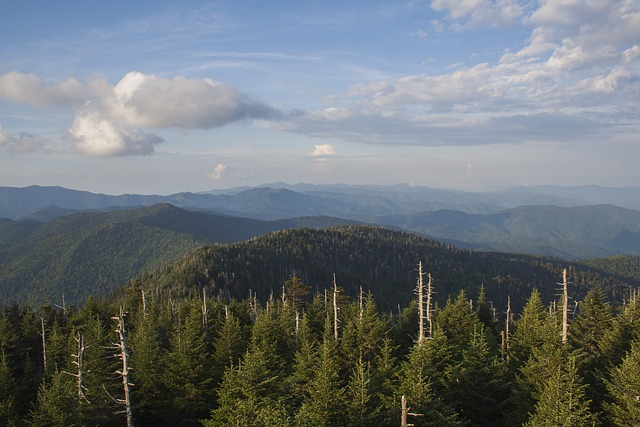 Brian and I were itching for an adventure and decided to embark on the famous Clingman's Dome hike in the heart of the Smoky Mountain National Park. It's a sight that makes your jaw drop and your heart race with excitement. But what's even more thrilling is the hike that leads you there! Located between Gatlinburg, Tennessee, and Asheville, North Carolina, this popular trek leads to the highest peak in the Smokies, offering panoramic views that can stretch up to 100 miles on a clear day.
Need a place to stay ? Check out our amaze-balls views at Dreamy Vistas!

So, strap on your hiking boots and join us as we share our ultimate guide to conquering the Clingman's Dome hike, packed with tips to ensure you have the best experience possible.
The Journey to Clingmans Dome: A Peak Experience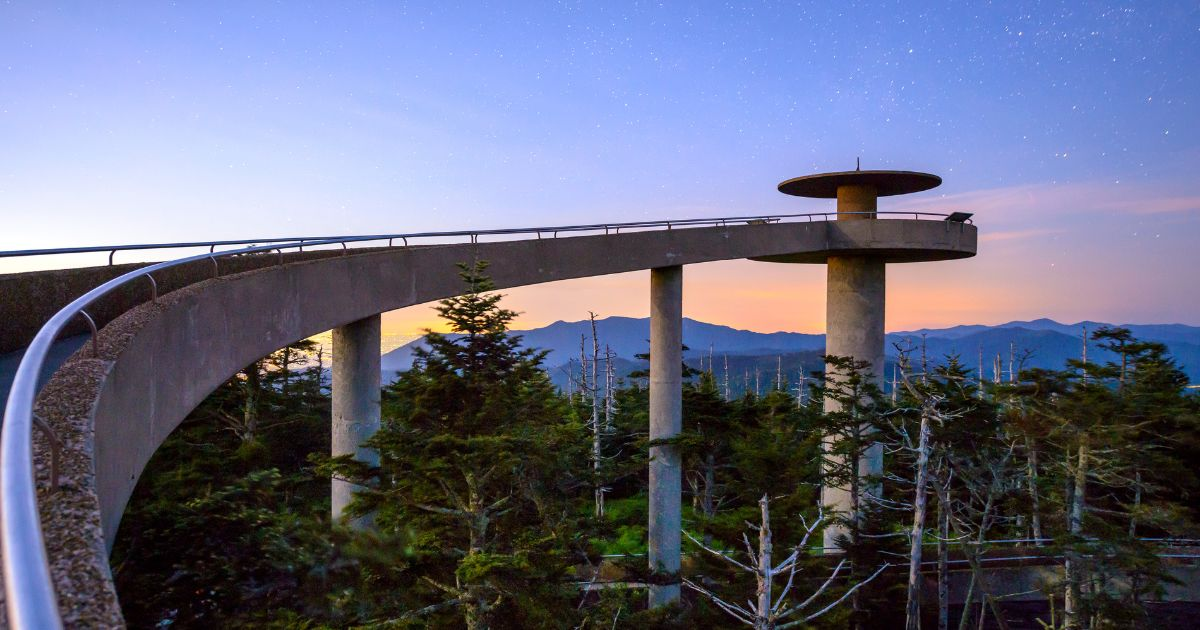 Clingmans Dome is the highest point on the Appalachian Trail, as well as the tallest peak in Tennessee. As you make your way to the tower on top, you'll encounter a variety of trails ranging from easy strolls along a paved trail, to challenging treks. No matter which path you choose, rest assured that you're in for a memorable adventure and some of the most breathtaking views in the United States.
Preparing for Your Clingmans Dome Hike
Before embarking on your hike, it's essential to familiarize yourself with the trail options and conditions. The distance from the Clingmans Dome parking area and a lot to the tower is just one-half mile around, but it can feel like an epic journey as you navigate the steep, winding path. Keep in mind that the trail is not wheelchair or bicycle-friendly and pets are not allowed.
Timing Your Clingmans Dome Adventure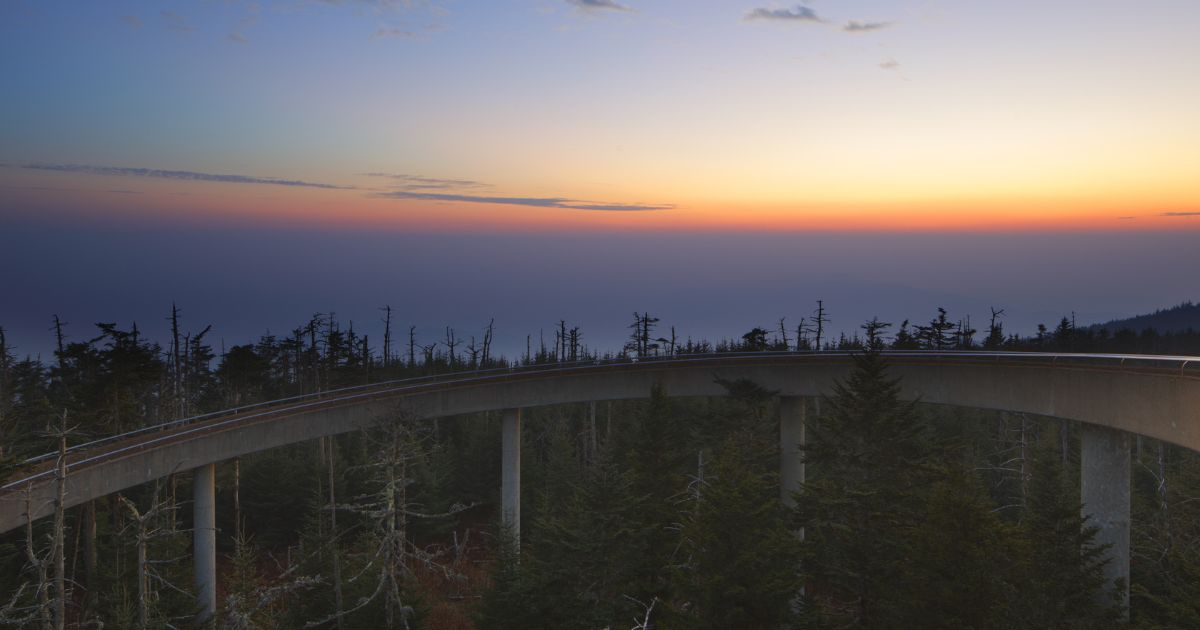 Choosing the right time to hike Clingmans Dome can make all the difference in your experience. The trail is open year-round, but the best views are typically found during the spring and fall months. If you're looking for a truly unforgettable sight, consider timing your hike to coincide with sunrise or sunset, when the sky lights up with vibrant colors.
First things first: timing is everything. The best time to visit Clingmans Dome is between April and November when the weather is generally more cooperative. Keep in mind that the temperatures can vary, so make sure to check the forecast before you go. Mother Nature has a sneaky way of throwing curveballs, and you don't want to be caught in a sudden downpour, wet conditions, cold temperatures, or an unexpected snowstorm.
Standing Tall: The Clingman's Dome Observation Tower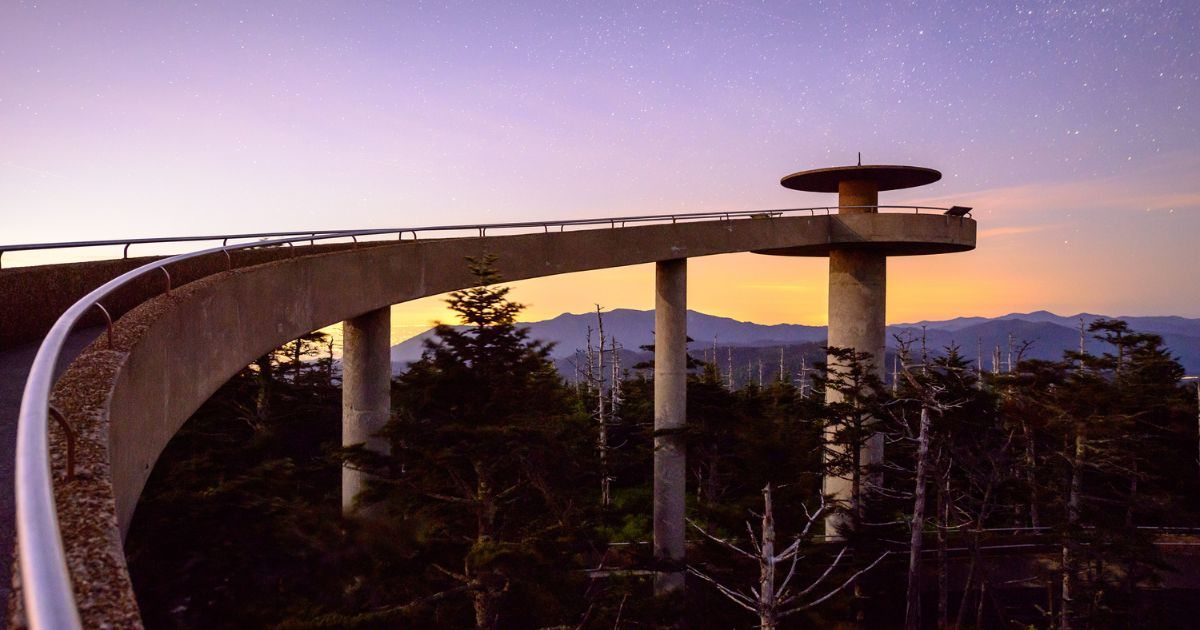 Once you've reached the highest point of the summit, you'll be rewarded with stunning 360-degree views from the 59-foot-tall observation tower. This unique structure features a 375-foot concrete ramp that spirals upward, providing a dramatic stage for your triumphant arrival at the top. Trust us, the climb is worth every step.
This architectural marvel was built in 1959. The tower and park's unique design, featuring a spiraling ramp, offers panoramic views that will make even the most seasoned hiker feel on top of the world.
Accessibility-wise, the observation tower's ramp is not suitable for wheelchairs or strollers due to its steep incline. However, several benches are strategically placed along the way, so you can catch your breath while enjoying the incredible views below. And remember, the best photos are captured during golden hour – so time your hike accordingly!
Exploring the Trails of Clingmans Dome
In addition to the main hike, there are numerous other trails to explore around Clingman's Dome, each offering its own unique experience. The Forney Ridge Trail provides a quieter, less crowded alternative, while the Appalachian Trail at Fontana Dam presents a more challenging, backpacking adventure.
Be sure to check out the different trails and choose the one that best suits your interests and abilities.
Parking and Transportation at Clingmans Dome
The Clingmans Dome parking lot can fill up quickly during peak season, so be prepared to arrive early or wait for a parking spot. Alternatively, consider visiting during less crowded times, such as weekdays or off-peak hours.
Other Fun Facts About the Highest Peak in the Smoky Mountains National Park
As you tackle the Clingmans Dome hike, keep these fascinating tidbits in mind:
The trail's elevation gain is approximately 340 feet, with a slope of around 13%.

Clingmans Dome sits at an impressive 6,643 feet above sea level, making it the highest point in Tennessee.

The summit's unique observation tower was designed by architects Hubert Bebb and Raymond Olson in the 1950s.
Packing essentials for the hike
As Brian always says, "It's better to have it and not need it than to need it and not have it." Remember to pack plenty of water, snacks, sunscreen, bug spray, and a first-aid kit. Dress in layers, have and wear good shoes, and don't forget to bring a hat and sunglasses to shield your eyes from the sun.
How to get to Clingman's Dome
Now that you're prepared for the hike, let's talk about getting to Clingmans Dome. Depending on where you're coming from, there are a few transportation options to consider. If you're driving, set your GPS to Clingmans Dome Road, which is accessible from US-441 (Newfound Gap Road). For those without a car, consider carpooling with friends or joining a guided tour that includes transportation.
But if you still aren't convinced, check out these Clingman's Dome trails that each offer something new and unique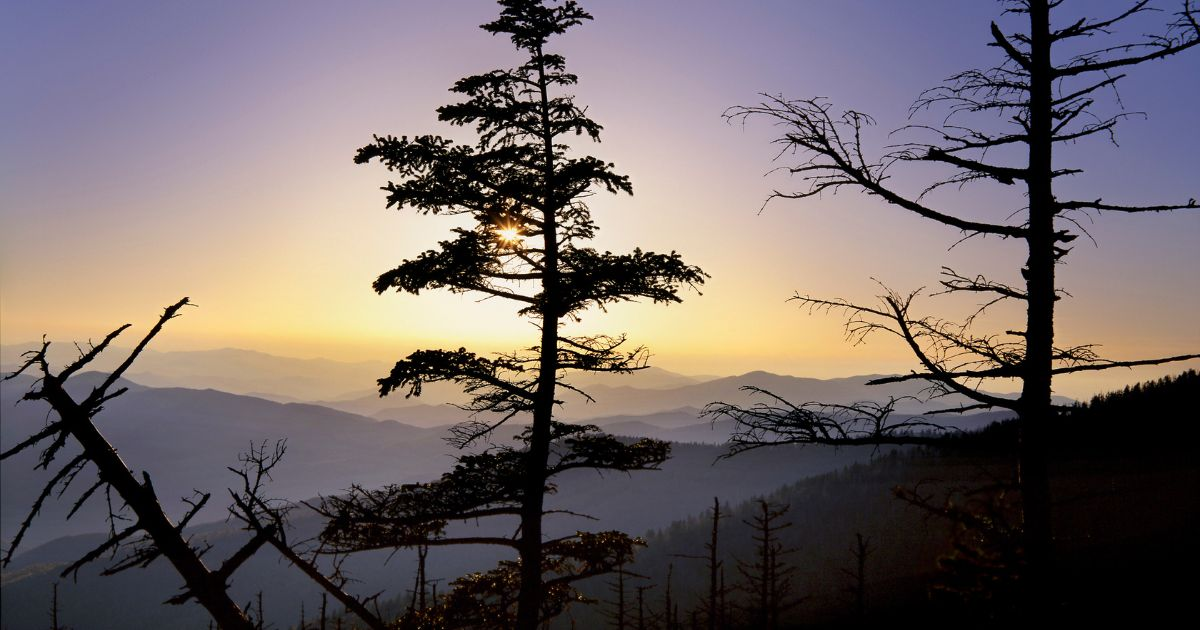 Alright, my fellow adventurers, let's talk about the trails! Clingmans Dome offers several trail options, each with its own unique features, difficulty levels, and breathtaking views. So whether you're a casual stroller or a seasoned hiker like Brian and me, there's a perfect path for you!
The Trail to the Observation Tower
This half-mile paved path is steep but well worth the effort. As you ascend, you'll be greeted by panoramic views that'll leave you breathless (both figuratively and literally).
Forney Ridge Trail to Clingmans Dome Loop
If you're looking for a slightly longer and more rugged trail, consider the Forney Ridge Trail. This 5.6-mile round-trip hike leads you to the picturesque Andrews Bald, where you can enjoy a picnic surrounded by stunning mountain vistas. Just be prepared for a moderate workout – or, as Brian likes to call it, "Nature's StairMaster."
Appalachian Trail at Fontana Dam
For the ambitious hikers out there, the Appalachian Trail at Fontana Dam offers a challenging yet rewarding experience. This section of the iconic trail offers some of the best views of the Smokies, but be warned: it's not for the faint-hearted or the weak-kneed.
Newfound Gap to Clingmans Dome Trail
Another option is the Newfound Gap to Clingmans Dome Trail, which is a 14.9-mile round-trip hike that combines both the beauty of the Appalachian Trail and the breathtaking summit of Clingmans Dome. It's a longer, more strenuous hike – perfect for those looking to channel their inner Brian.
Wildlife and Flora on the Clingman's Dome Trail
Last but not least, let's discuss the amazing wildlife and flora you'll encounter along the trail. Keep an eye out for black bears, deer, and wild turkeys – but remember to admire from a safe distance! The area is also home to a variety of wildflowers and unique plant life, making it a botanist's dream come true.
Nearby Attractions Not to Miss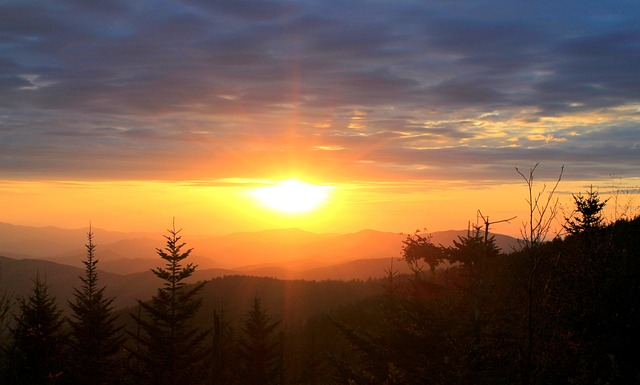 Alright, adventurers, now that you're well-versed in all things Clingmans Dome, let's talk about some nearby attractions and activities that will round out your Smoky Mountains experience.
While you're in the area, be sure to check out other amazing hikes and outdoor activities the Great Smoky Mountains have to offer. If Clingmans Dome has to whet your appetite for more, Brian and I can vouch for the beauty of other trails, like the Chimney Tops Trail or the Alum Cave Trail.
Now, let's face it – after a long day of hiking, you're going to be hungry. And in our experience, there's nothing like some good ol' Southern comfort food to refuel your weary legs. For a hearty meal, look for local dining options in nearby towns like Gatlinburg or Cherokee, where you'll find everything from mouthwatering BBQ to scrumptious farm-to-table fare.
Speaking of nearby towns, don't miss the chance to explore charming places like Pigeon Forge, home to Dollywood and other fun attractions. Each town offers its own unique flavor and vibe, so take the time to wander and discover hidden gems along the way.
Now, before we send you off on your Clingmans Dome adventure, let's talk safety and regulations. When hiking, always follow trail safety and etiquette, such as yielding to uphill hikers and giving wildlife plenty of space. And, as always, adhere to Leave No Trace principles to ensure the beauty of the Smokies is preserved for future generations.
In conclusion, the Clingmans Dome hike offers stunning views, challenging trails, and a once-in-a-lifetime experience in the heart of the Great Smoky Mountains. So lace up those hiking boots, channel your inner Brian, and embark on an adventure you won't soon forget. Happy hiking trails everyone, and may the breathtaking views of Clingmans Dome be forever etched in your memory!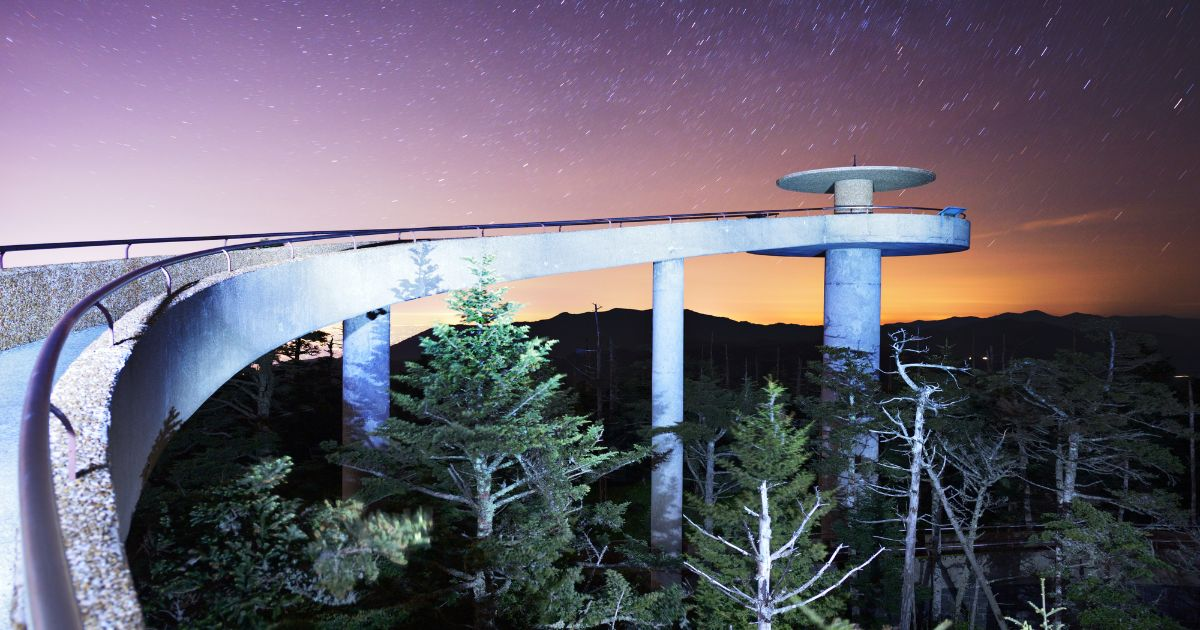 How far is the walk to Clingmans Dome from the parking lot?
When embarking on the Clingmans Dome hike, it's essential to know the distance you'll be traversing. The walk from the front parking area and the Clingmans Dome parking lot to the summit of Clingmans Dome is a manageable one mile. However, don't be deceived by the short distance, as this trail is steep and can challenge even seasoned hikers. Although the hike might be strenuous, reaching the top offers breathtaking views of the Great Smoky Mountains, making the effort entirely worthwhile. So, as you prepare to tackle the Clingmans Dome hike, remember that it's just half mile hike from the visitor center parking lot to the summit, but be ready for a vigorous climb that promises a rewarding experience.
How Long Does it Take to Hike Clingmans Dome?
The time it takes to hike Clingmans Dome can vary based on several factors, including your fitness level, pace, and chosen trail. For most hikers, conquering the primary trail from the parking lot to the summit and back takes approximately two to four hours. This steep, one-mile hike may be challenging, but the stunning panoramic views from the summit make the effort worthwhile. It's essential to account for additional time spent admiring the scenery, taking photographs, and exploring the Clingmans Dome Observation Tower. Remember to pace yourself, stay hydrated, and take breaks as needed to ensure a safe and enjoyable hike up Clingmans Dome.
Why You'll Want to Do a Clingmans Dome Hike
Embarking on a Clingmans Dome hike is an unforgettable experience for nature enthusiasts and adventure-seekers alike. As the highest peak in the Great Smoky Mountains National Park and the third-highest mountain east of the Mississippi River, Clingmans Dome offers unparalleled panoramic views that extend over 100 miles on clear days. The hike exposes you to diverse flora and fauna, including fragrant wildflowers and majestic wildlife. Additionally, Clingmans Dome lies along the famed Appalachian Trail, allowing you to be a part of a legendary trekking journey, even if only for a short stretch. The sense of accomplishment you'll feel upon reaching the summit, combined with the breathtaking vistas and unforgettable memories, makes a Clingmans Dome hike an absolute must-do for anyone visiting the Great Smoky Mountains.
How do I get to Clingmans Dome? How long is the Clingmans Dome drive?
Reaching Clingmans Dome is straightforward and accessible for visitors to the Great Smoky Mountains National Park. The most common route involves taking the Clingmans Dome Road, which starts from Newfound Gap and winds its way up the mountain for seven miles. The drive typically takes around 20-30 minutes, depending on traffic and weather conditions. Along the way, you'll encounter several scenic overlooks that offer breathtaking views of the surrounding landscape. It's important to note that Clingmans Dome Road is closed from December through March due to winter weather conditions. When planning your trip, consider visiting during the warmer winter months, to ensure easy access and a smooth drive to this remarkable destination in the heart of the Smoky Mountains.
Who designed Clingmans Dome? Why is the ramp curved?
The iconic Clingmans Dome, with its unique architectural design, was brought to life by architects Hubert Bebb and Raymond Olson from Gatlinburg. The duo aimed to create a structure that would not only stand the test of time but also blend seamlessly into the natural surroundings. The 45-foot tower, featuring a curved ramp, was specifically designed to provide an accessible route to the top observation tower and deck for visitors. This innovative design allows for a gradual ascent, making it easier for people of all ages and abilities to reach the summit and take in the awe-inspiring views. The curved ramp not only serves a functional purpose but also adds an artistic touch to the structure, as it gracefully winds its way upwards, mimicking the contours of the surrounding landscape.
Can you walk Clingmans Dome Road?
You can travel Clingmans Dome Road, however, be aware that it is seven miles long and there are some huge elevation changes.
How long of a hike is Clingmans Dome?
Embarking on the Clingmans Dome hike is an adventure that leads you to the highest peak in the Great Smoky Mountains. The main trail to reach the Clingmans Dome trail's summit is approximately 1.2 miles in length, making it a relatively short yet steep climb. While the trail's length might seem brief, it can be quite challenging for some hikers due to the elevation gain of around 330 feet. However, the reward of breathtaking panoramic views from the Clingmans Dome Observation Tower makes the effort well worth it. So, strap on your hiking boots and prepare to be amazed as you conquer the iconic Clingmans Dome hike.
Is Clingmans Dome a hard hike?
The trail from the top of the national park service is a paved trail and stretches half a mile long. However, the route has a steep slope and is moderate to difficult.
Is Clingmans Dome worth it?
Clingmans Dome has long been an important attraction at Smoky Mountain National Park. Even if the hike is less than 2 miles, you get great views from the park, first parking area, park, and lot! Clingmans Dome in the Park has rated the top spot in Tennessee.
How much elevation gain is Clingmans Dome hike?
The Clingmans Dome hike involves an elevation gain of approximately 330 feet (100 meters) over the course of the 1.2-mile trail. Though relatively a short hike, the climb can be challenging for some hikers due to its steep incline. Nonetheless, reaching the highest point on the summit and taking in the panoramic views from the Clingmans Dome Observation Tower makes the hike well worth the effort.